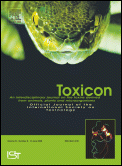 Toxicon is the official journal of the IST and is currently published for the IST by Elsevier. At present, due to increasing demand, Toxicon now publishes 16 issues per year, in 2 volumes. The international ranking of Toxicon is steadily rising, reflecting the large number of quality papers, covering a diversity of toxins, published in the journal. Currently over 30,000 papers are downloaded from Toxicon monthly.
The publisher on behalf of the IST, Elsevier, have a dedicated website for Toxicon.






TOXICON Aims To Publish:
– articles containing the results of original research on problems related to toxins derived from animals, plants and microorganisms
– papers on novel findings related to the chemical, pharmacological, toxicological, and immunological properties of natural toxins
– molecular biological studies of toxin and other genes from poisonous and venomous organisms that advance understanding of the role or function of toxins
– clinical observations on poisoning and envenoming where a new therapeutic principle has been proposed or a decidedly superior clinical result has been obtained
– material on the use of toxins as tools in studying biological processes and material on subjects related to venom-antivenom problems
– review articles on problems related to toxinology.

And

To encourage the exchange of ideas, sections of the journal may be devoted to Short Communications, Letters to the Editor, and activities of the International Society on Toxinology.
Toxicon strives to publish articles that are current and of broad interest and importance to the toxinology research community. Emphasis will be placed upon articles that further the understanding and knowledge of toxinology.
The current most downloaded Toxicon papers are listed within the Toxicon website.